Published by Morpheus, Aug. 7, 2022
Adoption Metrics, Monthly Edition
Clearnet and Darknet
There are some interesting metrics that are collected manually every month on third party websites and updated to Moneroj.net. These metrics revolve around adoption on markets and on the main darknet forum, known as Dread. This report aims to give a quick head's up about how fast Monero's adoption has been lately.


Coincards Usage
https://moneroj.net/coincards/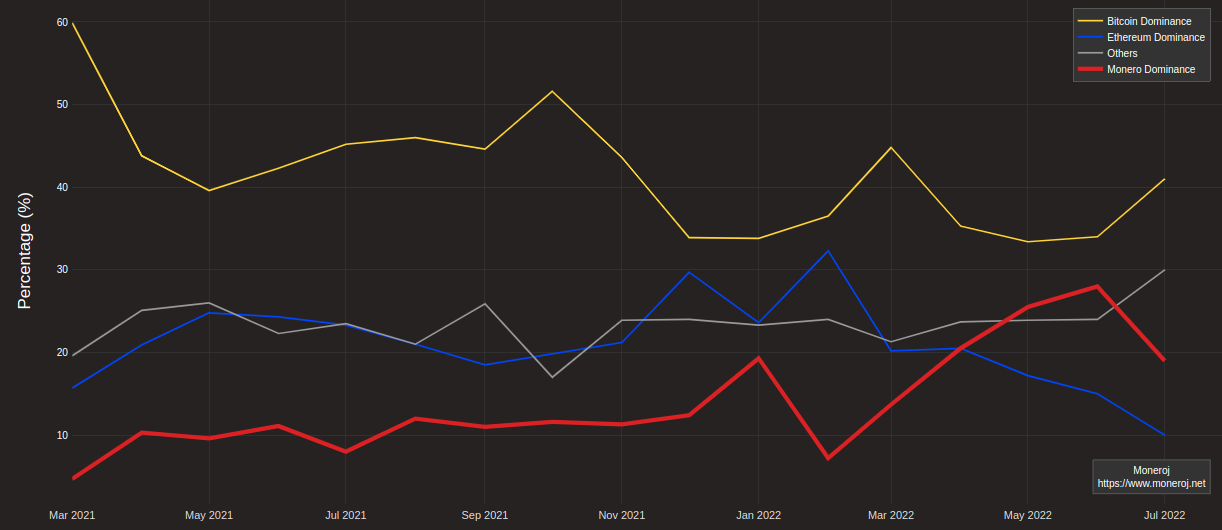 Monero had its percentage of usage on Coincards decreased, from 28% in June to 19% in July, while Bitcoin rose from 34% to 41%. However Monero's long term ascension continues on the bigger picture. On Coincards USA, Monero had 52% against 35% using Bitcoin, which is in line with June numbers, when Monero had 51% and Bitcoin 34%. Ethereum usage was 10% overall and only 2% in USA.
Merchant Acceptance
https://moneroj.net/merchants/
https://moneroj.net/merchants_increase/
https://moneroj.net/merchants_percentage/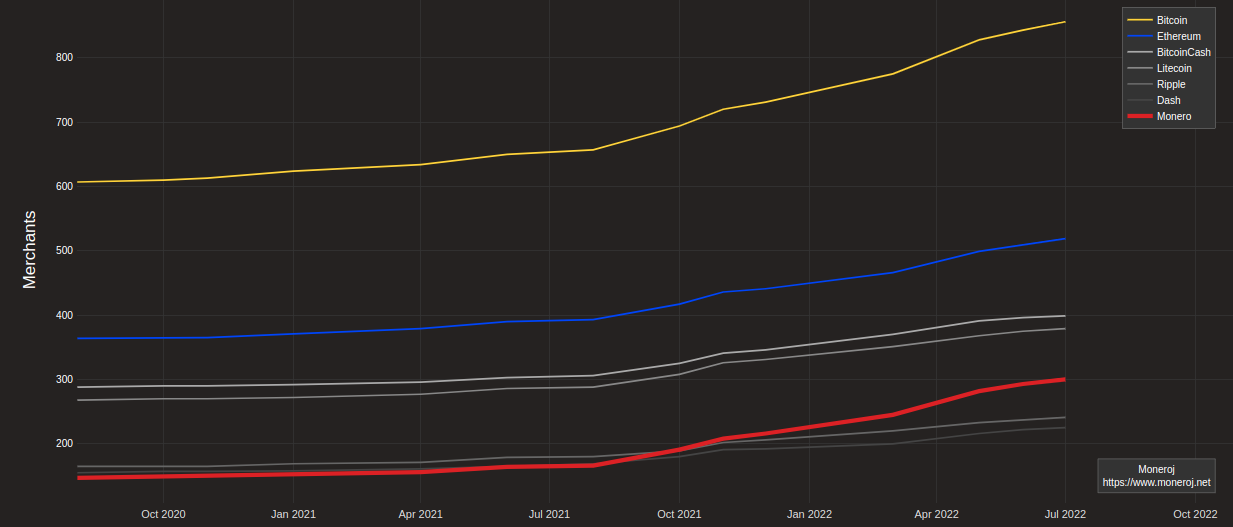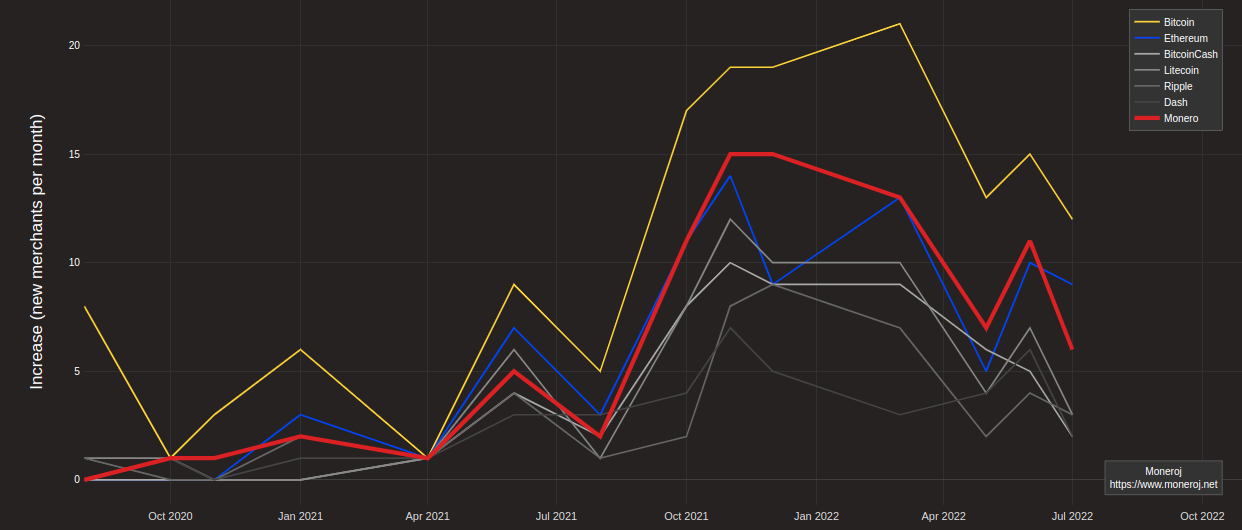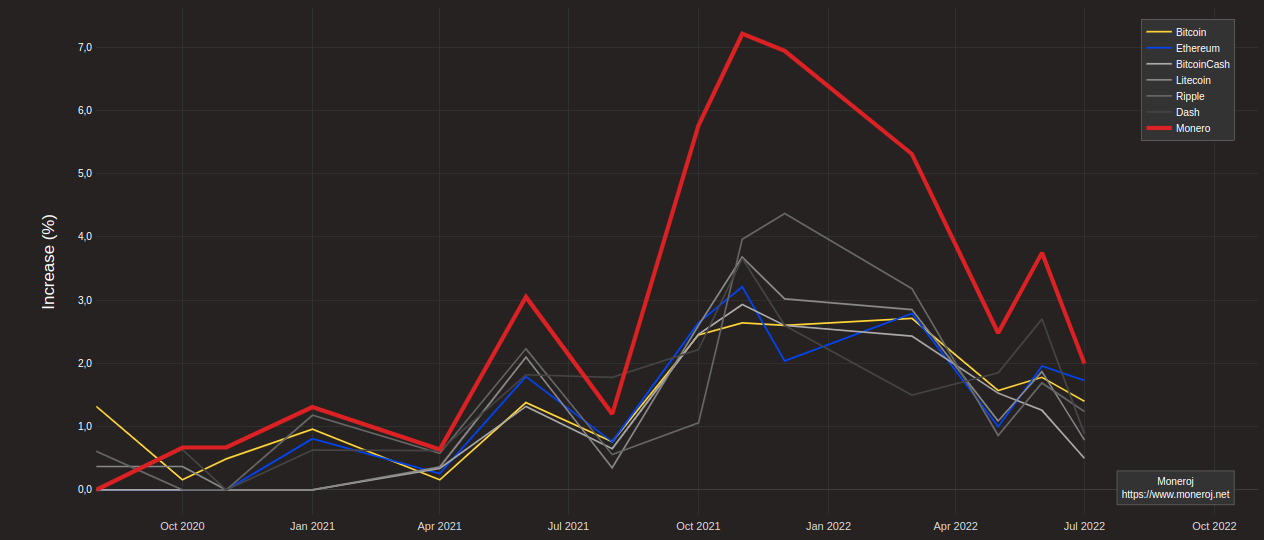 Merchant acceptance keeps growing and Monero is still on 5th place overall, with only Bitcoin, Ethereum, Bitcoin Cash and Litecoin having more adoption (total numbers). Total increase this month was 6 new markets, against 9 for Ethereum and 12 for Bitcoin, so it got 3rd place. Dealing with percentages, Monero was first, with 2% increase against 1.4% for Bitcoin, a tendency which has been persistent since the end of 2020. Merchant acceptance is a major indicator that Monero is being used as digital cash, therefore it is absolutely important that community members push internet stores and marketplaces to accept it.
Darknet
https://moneroj.net/dread_subscribers/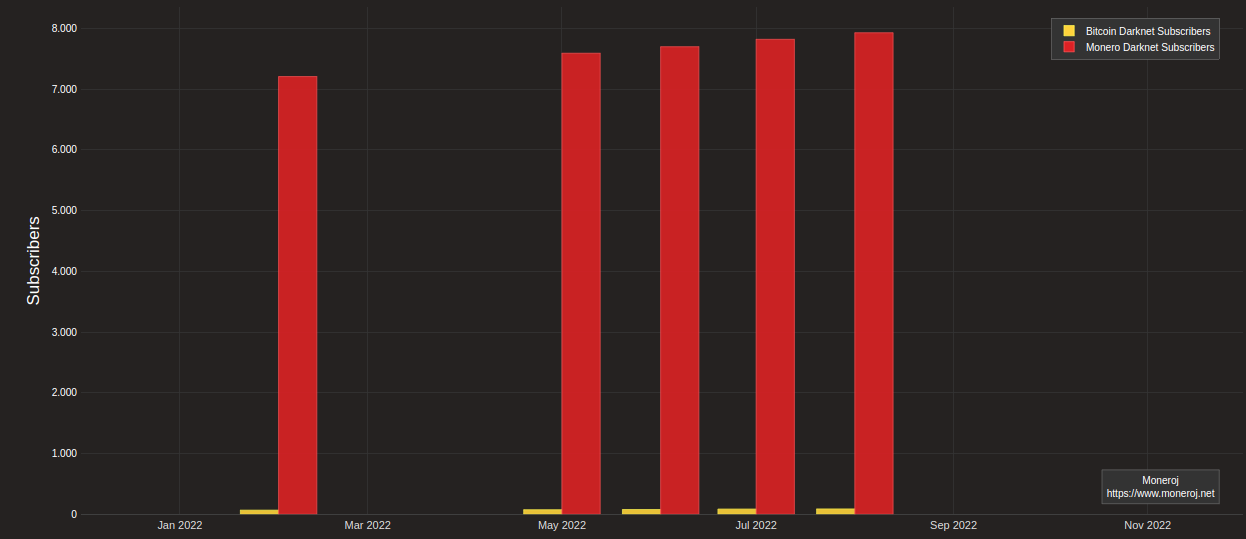 On the darknet nothing has changed. Inside the most important forum available, Dread, Monero reigns supreme, with 7929 subscribers to its 'subreddit', against 87 members inside Bitcoin's. In June there were 7821 members, so it's a 108 users increase. This is consistent with the average of 120 new members each month since the beginning of the year.
Crowdfunding to help Moneroj.net (240 hours of work)
Moneroj.net needs your help to pay for server expenses and further development. I'm currently developing new charts with new metrics, and I'm happy to launch 15 new ones, along with another 10 already launched since the CCS Proposal on May 11. There's also our new Hidden Service available for TOR users and our brand new Articles section. Also major loading speed improvement on the Charts. Check it out.
Read more about it.
Donation address: 8Agy1JvbsttEV2Jp2ecyRLSoKiCQwr4f2FKjWh2dz8Q1Y4LXCxXDNBf5praUrc1v8vDSqHYUefqxkiLNgnjvDfQNQStwvP6